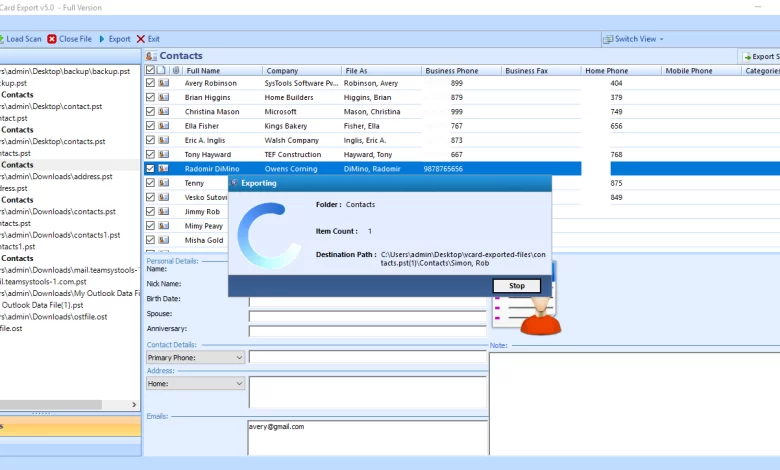 This article explains how to import Outlook contacts to iPhone. After reading this article completely, you can quickly move Outlook PST contacts file to iPhone in a few simple steps. We offer direct options with professional software. Read on for more information.
As the use of Outlook increases, so does the contact database. Over time, the contacts in your Outlook address book and the email account set up in Outlook become more important, but also more difficult to manage.  So, to resolve the issues related to the same, we have created this ultimate guide. Here we will show you a simple solution to move contacts file from Outlook to iPhone. If you have landed on this page while searching for a solution to the same question, stay tuned and continue reading the article.
"Can anybody give me save or quick way to move PST data to iPhone. I have thousands of contacts that I have saved over the years. I tried to sync my contacts with iPhone but I can't. Before that, I tried to transfer Outlook accounts and the messages are in sync, but not the contacts. Thanks, any help would certainly be appreciated. "
Expert Suggested to Import Outlook Contacts to iPhone
There are thousands of users who want to move their contacts from PST to iPhone.  The vCard Export Tool is one such powerful solution. It preserves all email objects and folder structure. This software is one of the best solutions available today. it easily transfer Outlook PST contacts to iPhone without making any changes to your address book fields. There is no possibility of data loss or alteration, and it gives users 100% results in the shortest possible time. The tool provides a simple graphical user interface that can be easily used by all users, regardless of whether they come from a technical or non-technical background. Another great feature provided by the tool is that you can create a compact vCard file that contains multiple contacts. Also, you can use this option to transfer Outlook contacts to vCard on smartphone, especially Android, as they support a single vCard with multiple contacts.
Note: This is a trial version of this app that only allows you to export 15 contacts from Outlook to vCard. To get the full address book, you need to purchase the software.
Import Outlook Contacts to iPhone – Step-by-Step Guide
To complete this task, you need to convert the Outlook contacts file to a vCard first, then export the converted file to your iPhone. You can convert PST contacts to vCard file using the vCard Export Tool.
First, you need to Download and Run this Application
Click on Add file option to Locate the PST file
Preview all Outlook PST contact details
The app will now scan the file and provide a preview
After this, select the vCard format to export the desired data file.
2# Import vCard Contacts to iPhone by Email
As we all know, iPhone / iCloud only supports vCard format for exporting or importing contacts. All iPhones must have an iCloud account. That's why we're here to show you two ways to import Outlook contacts to iPhone directly or via your iCloud account.
First, Attach the generated vCard or VCF file to an email and send it to your email account configured for iPhone
Now click on sharing options and select more options. Here, select the Contacts option
Finally, select the "Create new contact" option. After a few moments, import Outlook contacts to iPhone.
Task 2:  Transfer VCF Contacts File to iCloud to Share Contacts With iPhone
The simplest and most common method is to sync Outlook contacts with iPhone via iCloud. Follow the given steps:
Open your iCloud account in your web browser
Click the Contacts option
Press the vCard import option from the list
Select the resulting vCard file
Sync all contacts on iPhone.
Why Should Choose this Software
Dual Modes of Selection: This applications offer multiple choices for easy selection of Outlook data files. However, when importing Outlook contacts to iPhone, the Windows version has an advanced option to automatically search for Outlook data.
Windows Compatible Solution: It solutions are available for Windows computers. Users can easily install the app on Windows versions 11, 10, 8.1, 8, 7, XP, etc. and versions without any problems.
All Contact Properties are Preserved: During this process, applications maintain contact attributes and metadata such as images, phone numbers, email addresses, home and work addresses.
Safe & Secure Solution: This app provides an easy-to-use window for exporting contacts from Outlook to iPhone. Any novice user can easily understand the best parts of this utility without any hassle.
Sync Your Outlook Contacts in the Cloud With Your iPhone. This software is not just for exporting Outlook contacts to iPhone. However, you also have the option to import Outlook Web contacts to your iPhone without hassle. Contact us via live chat or email for this.
Conclusion
This article describes how to import Outlook contacts to iPhone. As you know, there is no manual way to transfer Outlook PST contacts to iPhone. Therefore, you need to use automatic software. The solution is to work easily on all your Windows computers. If you encounter software problems, you can seek assistance from the technical advisor.