Globally, millions of users are facing the problem of their emails disappearing from Outlook & we're here to solve their misery. We're going to explain the ways by which can learn how to retrieve missing emails on Outlook through this guide.
As we dig deeper into this topic, we found the various reasons why this happens. All of these reasons are here below for users to avoid their mistakes. Moreover, the manual & automated solutions are also going to be in there along with their advantages & disadvantages.
Users don't have adequate knowledge of the technicalities of this operation which is a huge hurdle here. We're quite confident that all the users facing these missing Outlook email issues can be a master of recovering them by the end of this article.
Need to Learn How to Find Missing Emails on Outlook?
Below are the reasons that can cause the disappearance of users' emails. Knowing these can help users Retrieve their Outlook emails from any situation.
Check Your Others Tab
All the users who have enabled their Focused Emails, must check their Other Tab. If you get your email there, Right Click >> Move to >> Focused Inbox & that's it.
Junk Email Folder Issues
There are scenarios where email clients accidentally mark an email as a junk email due to several glitches. Click on the Email >> Select Not Junk >> Click Not Junk option.
Have a Look at Archive Folder
After archiving an email, it can not be shown in your inbox mailbox. Make sure your lost Outlook email isn't there. Select Email >> Click on Move to >> Inbox option.
Check the Filter Menu Settings
If you use filters in your emails list, particular emails may get blocked by the filters & you couldn't be able to see those. Select Filter >> Select All to view all the data items.
Misconfiguration of Outlook Rules
Users must configure their outlook rules carefully. In several cases, the wrong configuration of rules results in disappearing emails. Go to Rules, & then either Delete them or Edit them carefully.
Scrutinize the Deleted Items Folder
The majority of the time, the emails get lost due to them getting deleted. After checking all of the above points users need to check if their deleted emails are present in the deleted time folder or not.
Learn How to Retrieve Missing Emails on Outlook Automatically
If your emails are deleted, then we're going to reveal the best available solution to get back deleted Outlook emails. This modern approach involves advanced Outlook PST Recovery Software to retrieve our lost emails.
We must download this automated tool & then follow the below-mentioned steps with their respective images to get the best results. IN just 5 easy steps, you can easily get back all the temporary & permanent deleted Outlook emails.
Step-1. Click on the Add File button to add the PST files from which your email is deleted.
Step-2. Select the Quick or Advance Scan option to scan corruption in the files if any.
Step-3. Select required Deleted Emails highlighted in Red Color from the available list.
Step-4. Apply Date & Category Filters for the selective recovery of deleted emails.
Step-5. Select PST File format & then Browse the Destination Folder location.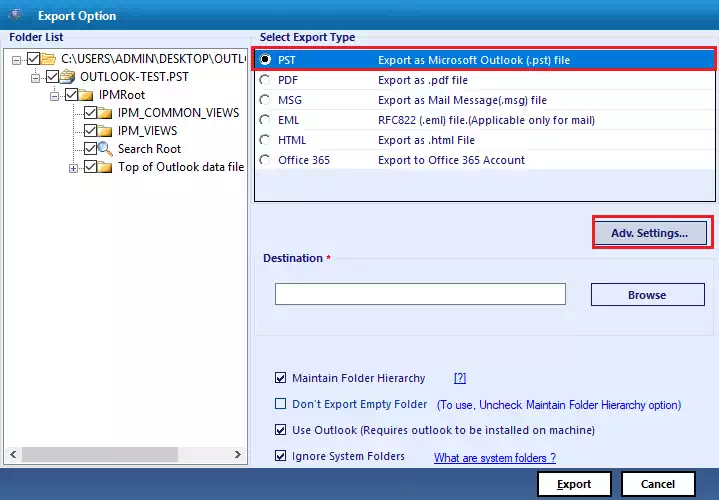 Step-6. Click on the Export option to start getting the deleted emails back in your system & desired folders.
Why Learn How to Retrieve Lost Emails on Outlook Using Modern Approach?
Now, we're going to discuss advantages of modern methods over manual solutions that we will discuss in the next section. These benefits of the automated solution are what make it better than others.
Not just emails, the automated solution can bring back deleted contacts, calendars, tasks, notes, & journals.

Along with recovering lost Outlook emails, users can also repair their corrupted files here with ease.

Bulk retrieval of deleted emails in a single go is possible after opting for this automated solution.

The modern method for learning how to find missing emails on Outlook offers the option to export files in PST, PDF, MSG, EML, Office 365 & HTML file format.

Date & Category filters result in offering the selective recovery feature for users that saves both time & effort.

This tool helps in getting lost emails protected by passwords or encrypted by SMIME or OpenPGP encryption.
What's the Manual Solution We have to Recover Lost Emails?
Now we have the manual method at last because of its plenty of limitations present in it. These drawbacks are the reason why the manual solution isn't practical. Let's start learning how to retrieve lost emails on Outlook manually followed by the critical disadvantages.
Step-1. Go to the Deleted Items Folder & then look if you have your emails there.
Step-2. From all the available data, Find the missing email that you want to recover.
Step-3. Select Missing Emails & then Click on the Restore option.
After restoring emails, they can see these missing emails in their initial folders.
Drawbacks to be Aware of
The deleted items folder only keeps deleted items for 30 days. Outlook automatically removes emails older than that time period.

There is no feature here to find & retrieve bulk Outlook emails at once using this manual method.

Filters like date & category help users in getting their selective emails back are not present in this manual solution.

Users can not get their password-protected, OpenPGP & SMIME encrypted emails back this way if lost.

Learning how to find missing emails on Outlook manually won't maintain the folder hierarchy in the destination folder.
Conclusion
After deeply understanding all various aspects of this topic we can say that not all the methods are ideal. Users without having proper knowledge often select the wrong method & end up messing up even more. The manual method is one such method that looks quite decent but gets worse as we move on.
Learning how to retrieve missing emails on Outlook using the automated solution is a very practical solution. Users can easily get all of their lost or deleted Outlook emails back with bare minimum effort & time. Several IT experts & Microsoft's MVPs are using this solution because of the same reasons. All thanks to the advanced features of the modern method.