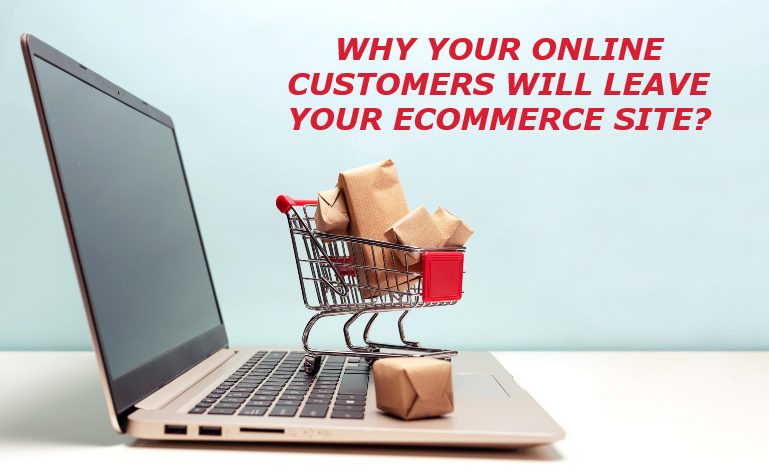 Ecommerce websites should meet the landing experiences of online visitors, and if they fail, the bounce rate will go high. An ideal ecommerce site can always captivate online visitors with its eye-catching design and up-to-date content. However, things can go the other way if a store reflects poor website design and bad user experiences. Reducing the bounce rate of your website is critical because the longer they stay on your website, the more they will know about your products/services. This post will explain 6 reasons why online customers will leave your ecommerce site, and you need to underpin them. Keep scrolling to learn more!
Reasons Why Visitors Leave an Ecommerce Site:
Regarding the bounce rate of an ecommerce site, there could be multiple reasons under the cover. A high bounce rate can indicate various negative aspects of your online store, and your visitors will never wait a second. We have compiled a few reasons your online customers will leave your ecommerce website. Do you want to know what these reasons are? Here is a detailed list!
1. Attracting the wrong audience:
A primary takeaway for ecommerce site owners if they experience a high bounce rate is that their ads and marketing campaigns are generating the wrong traffic. The generic keywords you use in your content copy or PPC campaigns are not meant for the right audience, and they will leave the next second. They will not waste a second when they realize they are in the wrong place.
If your ecommerce website has various hard bouncers, it could be a perfect indication of this sign. The more you focus on your ads, keywords, and content copies, the lower your online store bounce rate.
2. Poor/confusing website design:
Your online visitors could have a hard time with your ecommerce store if it has a poor or confusing website design. Defining a poor website design could be a hard task, but you can attribute it to various points. Here are a few points to consider that can define a poor website design.
i) Poor site navigation:
What if your online visitors can't find the product they are looking for? The menus and options are unclear, and visitors find navigating through your online store hard. A well-intended visitor will leave your website if it reflects poor navigation and misplaced menus and options.
ii) Uninviting page layout:
If your ecommerce site has an unappealing design and page layout, you will surely lose your online visitors. A lack of eye-catching images, videos, and other visual elements on your website can cause a higher bounce rate.
iii) Inconsistent messaging:
Visitors could become frustrated and leave your site if the communication is not up to the mark. The messaging on your landing page should match the expectations to create a streamlined experience for your visitors.
Do you want to eradicate all these issues from your website and make it user-friendly? The answer lies in maintaining your website regularly. Consider opting for the best website maintenance services in Dubai, and let the experts help you!
3. Irrelevant website content:
Another striking reason for a higher bounce rate on websites is a content irrelevancy. Before you create and upload the content, it would be best to put yourself in your customers' shoes and know what value they want. Every piece of content on your ecommerce website should help your audience achieve what they are looking for.
Conveying your brand's value proposition is way too easy with your content, and you should invest in it. Since your content helps your customers in their journey, it should be relevant, updated, and informational.
4. Your CTA buttons are not performing:
If the CTA buttons on your homepage do not stand out or blend in with other on-page elements, you will experience a higher bounce rate. It would be best to update your CTA buttons, update the color and tweak the call to remedy the situation quickly. Customer interaction will only increase if you take care of your CTA buttons.
What if your call to action button lies below the fold line? Your visitors will never see them and may leave your site without taking action. If the buttons are not enticing enough, you will never see a good result.
5. Your website loads too slow:
Another prominent reason for the high bounce rate is the slow website loading speed. Even a well-intended visitor will give up after 3 seconds if it takes longer than that to load. The best you can do is opt for website maintenance services in Dubai from SpiralClick and ask the experts to alleviate this problem.
The probability of visitors bouncing out of your website increases with a low website speed. Ecommerce website owners often neglect this point which costs them too much!
Provide a streamlined user experience to your visitors!
A well-maintained website can provide a streamlined user experience to online visitors, and site owners should think about it. It would be best to hire maintenance experts from SpiralClick and ask them to provide their services to keep your website green and going. Hire them today!